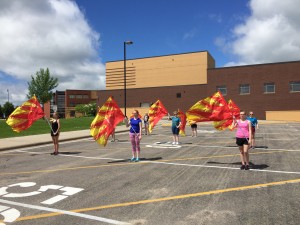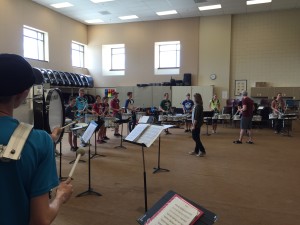 The 2016 Lakeville South Marching Band is up and running! The drumline and colorguard have been working hard to provide the band with a strong rhythmic foundation and visual flair!
Summer Marching Band rehearsals start next week for everyone!
Here is a reminder of upcoming dates:
Thursday, June 16 @ 11 AM – All leadership (drum majors, rank lieutenants and section leaders will meet for about an hour to discuss practice expectations and goals for the following week.
Monday, June 20 – All drumline, colorguard, all incoming 9th grade wind players (this includes everyone that plays a flute to the tuba, any instrument you blow air into) and leadership will rehearse from 9-noon.
Tuesday, June 21 – Full Band rehearsal starts including veteran marchers!
Please review the information below. You will find:
Parade Rosters – Please check every parade roster to make sure they are correct, if your name is italicized you were unsure of your availability for that parade. I order buses based on these lists and need an exact count, thank you.
Summer Marching Band Music – You will have to scroll though to find your part.
Click here to view the rosters and music.
Summer Parade Uniform – Khaki shorts, band polo (you will receive this at your first practice) and tennis shoes.
Prepare for Practice – All band members should show up to every rehearsal with a water bottle, tennis shoes (never sandals), sunscreen, instrument, music and wind players should have a flip folder with at least 10 pages and a lyre (this is the piece that connects the flip folder to the instrument).
Music Memorization – Our first parade is on June 25th, which means we only have 4 practices with everybody before our first performance. We march without music, so if you haven't started memorizing your music start today 🙂 Start memorizing Centuries first then Beethoven's 5th. Take it about 4 measures at a time and repeat multiple times. We will not be performing measures 36-59 in Beethoven this summer, so don't spend time on them.
Summer Donations & Volunteers – Please follow the link below to sign up for summer donations (water, cookies, sunscreen, etc.) and volunteer opportunities (water parents and younger siblings to carry our banner). This link will appear later this week!
CLICK HERE TO DONATE & VOLUNTEER
Recordings – Below are links to recordings of our summer performance pieces. They can help with memorization!
Centuries (we will go faster than this recording and our percussion parts are different)
Beethoven's 5th (don't forget, we will be cutting measures 36-59 this summer)
New Cadences