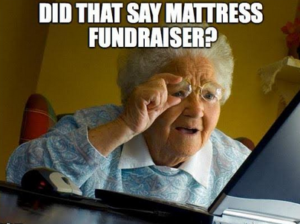 Hello Lakeville South!
Believe it or not, we're only 3 weeks away from our First Annual Mattress Fundraiser. Following are some important reminders:

Our goal:  100+ people to the event  – if we do this, we will have an event that raises close to $15,000!
80% of our sales will come from referrals. Do you have 2-3 referrals? Have you completed the 5 marketing steps:

1.  Text "Lakevillesouth" to 651-760-8686
and forward to 10 people OR take a pic of their referral flyer and forward to 10 people.

2.  Share/invite on facebook event (goal is 5,000 invites for $500 bonus or $250 for 2,500 invites)
3.  Put up a yard sign. (we have more)
4.  distribute 10+ hard copy fliers/posters
5.  forward emails

Volunteers – Keep an eye out for SignUp Genius. We'll need 5+ students and at least 1-2+ parents per 1-2 hour shift throughout day.