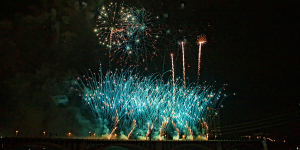 The Cougar Marching Band will perform in the Minneapolis Aquatennial Parade on Wednesday night. The parade details are below.
Don't forget to RSVP for the party this Friday!
To perform in this parade all students must have a waiver signed by their parents, these were distributed at rehearsal, if you did not receive one please follow this link and print a waiver and bring it signed on Wednesday (it's at the bottom of the page) http://www.aquatennial.com/torchlightparade.
Wednesday – Minneapolis Aquatennial Parade Information:
Report Time: Arrive at school between 6-6:20, bus DEPARTS promptly at 6:30 PM.
Uniform: Band t-shirt tucked into khaki shorts and tennis shoes. Hair should be off the shoulders in a pony tail or up. No hats. Glow sticks are encouraged :)!
Parade starts at 8:30 PM. We anticipate returning to school around 10:30/11 PM.