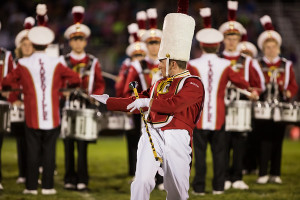 Friday, October 2nd brings the band's final home football game of the year. The game day schedule will be the same as previous game days.
3-5pm – Rehearsal
5 PM – Dinner
6 PM – Final preparations meeting in auditorium
6:15 PM – Warm-up in staff parking lot
6:35 PM – March to Stadium
The band is excited to welcome about 55 8th grade musicians from McGuire, Kenwood Trail and All Saints Middle Schools. Our visiting musicians will perform the LSHS School Song with the Pride of South during halftime and participate in game cheers with the band in the stands.
Below are a few announcements:
Parent Volunteers: We are still in need of volunteers for this football game, please sign up. Here is a message from our booster president:
Good morning, Band parents!  We are in need of several volunteers for tomorrow night's football game.  Please consider volunteering your time to help out your Marching Cougars!
October 2 LSHS Band Booster Fundraising Table
www.SignUpGenius.com/go/10C0D4EA9AA2AA7FC1-october1
Bring Mallet Instruments back to Band Room after Game
www.SignUpGenius.com/go/10C0D4EA9AA2AA7FC1-assistance1
Pictures: There have been some great photos posted to the band's facebook page! In addition The Lindquists have been taking some great professional pictures at South's sporting events which include many pictures of the band. Please enjoy the link posted in the media section of the band's webpage!
Calendar: The likelihood of our volleyball team advancing in the playoffs is good, so the playoff dates have been added to the band calendar. They are during the last week of October and the first week of November. We will likely be the high seed, so we will host until the finals.
Thank you for supporting the Lakeville South Band!