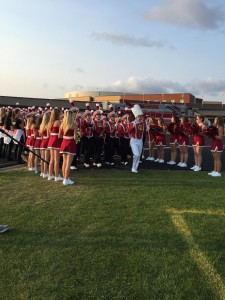 The 2015-16 school year is up and running at LSHS and the bands are preparing for their first school year performance next Tuesday (15th) at the Volleyball game. The following week is already Homecoming week and the band is hard at work on the music they will perform at the football game.
The beginning of the year is filled with many papers that come home with students. Below are a few papers/electronic documents that came home and when they are due. If you are missing any of them, they are all available on schoology.
Band Handbook – Available on lakevillesouthbands.com on the high school band resouces page and schoology
Band Handbook Signature Sheet (Due Fri. 9/18)
School Instrument Rental Form (Due Fri. 9/18)
Band Sweatshirt Order Form (Optional, due Fri. 9/11, late forms will be accepted at the open house)
Band Calendar – Available on lakevillesouthbands.com and schoology
The Timberwolves game has been added to our schedule! The LSHS Band (9-12) will perform at the Target Center on Monday, November 23rd. This will be a great opportunity for our performers to represent South and experience a Timberwolves game!
The first band booster meeting will be held in the band room following Monday's open house. All are invited for a summary of what has been going on with the group and discuss upcoming events.