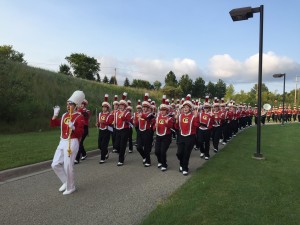 Congratulations to the LSHS Band on a great performance last Friday night! The ensemble earned many great compliments from parents of band and non-band students, school administration and district administration. Best off all, many performers were very proud of their performance, but also made constructive comments on things that still need improvement, this was great to hear as a teacher! Videos of last week's performance can be found here. These last two weeks have been great and Mr. Bieniek is so thankful for students willing to adapt and strive to excel at new things with a new director, great student leadership and parents that made the band look great for their first game by distributing uniforms two weeks before school started.
The band's next performance is this Thursday. The details are below: 
Game Day (Thursday, Sept 3): 
3-5 pm – Rehearsal (bring uniforms and hang them up in the band room).
Musical Goals
1. More air support!
2. Rehearse halftime songs (Crazy Train, Carry on Wayward Son)
3. Rehearse Eagan School Song (Notre Dame)
Marching Goals
1. Straighter lines marching 8 to 5 down field in intro
2. Higher percentage of feet on correct count
3. Integrate new marchers
4. Learn 2 halftime formations for the evening's performance
5. Learn cheers on the performance agenda (Cougar cheer and MK)
5 pm – Dinner (The boosters order pizza and bring fruit and drinks for the kids each football game so we can rehearse and eat together as a band) If you signed up last week, I will leave your name on the list. If you would like to be added to the list for this week please email Mr. Bieniek by noon on Wednesday.
5:45-6:00 pm – Get into uniforms
6 pm – Warm-Ups
6:30 pm – March to football field
6:46 pm – Perform pre-game show
7 pm – Kick-off – The band will perform in the stands during the game and will be dismissed following the game, at which time they will take very good care of their uniforms 😉