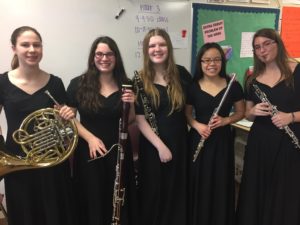 On Friday, January 21, over 160 LSHS instrumentalists performed at the Region 1AA Solo & Ensemble Festival hosted at Lakeville South. Fifteen schools and over 800 instrumental and 600 vocal entries filled the halls of LSHS with music. Students had the opportunity to perform their prepared solos or small ensemble pieces for a judge.  The judges gave them musical insight on how to improve their rehearsing strategies and performances in the future. All performances were also scored and given a rating of Fair, Good, Excellent or Superior.
Lakeville South instrumentalists earned 130 superior medals and 81 excellent certificates. There were also 4 entries from LSHS that earned a perfect score. In addition, the Wind Ensemble percussion section earned Best In Site Honors for being the top performers in the percussion ensemble site.
Congratulations to all performers!
Special Recognitions:
Best In Site – Wind Ensemble Percussion Ensemble
Perfect Scores:
Hannah Bui – Flute Solo
Danny David – Marimba Solo
Kirsten Ellis & Ruby Martinez – Flute Duet
Abbie Kavouras – Bassoon Solo