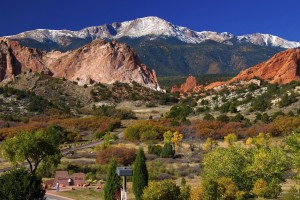 This year's trip to Colorado has been moved forward one week due to the contest being moved forward one week. We will now be traveling the week after spring break.
The week following spring break this coming school year, the bands from Lakeville South High School will perform in an adjudicated music festival in Colorado Springs, Colorado. While there, they will take in the splendor America's Rocky Mountains offer.
A trip meeting will be held at the beginning of the school year, but some basic info is below.
Dates: Depart for Colorado on Tuesday, April 4 after school and return on Sunday, April 9 via motorcoach.
Who will be traveling: This trip will include all members of the Lakeville South Band Program, grades 9-12. Obviously this is not a requirement, but I hope everyone can go as we will be performing in our ensembles, this includes our concert bands, jazz ensemble and percussion ensemble!
Where will we be performing: We will perform at an adjudicated festival in Colorado Springs.
What will we do when we aren't performing: We will have the opportunity to take in the Rocky Mountains of Colorado! Some activities/areas will include Garden of the Gods, Manitou Cliff Dwellings, Pike's Peak Cog Railway, a dinner theater performance, Royal Gorge Bridge and more!
Cost: This will be more definite at our trip meeting at the beginning of the school year, but I am aiming for between $900 and $1000 per traveler.
This will surely be a memorable experience for Lakeville South musicians, making music with their friends and experiencing some of the best natural beauty our country has to offer!