The Lakeville South Band and Band Director Chad Bieniek, are joining forces with the American Cancer Society to combat breast cancer. To help in this cause, click the link and make a donation to the American Cancer Society! Any amount helps, but consider $10 per person you know that has been impacted by this disease.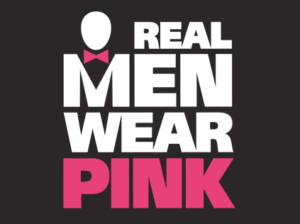 All of the band's fall performances will be dedicated to this cause. In July, nine influential men from around the Twin Cities were asked to be leaders in the fight against breast cancer. Though band director Chad Bieniek is not a local media personality, he embraced the opportunity to get behind a important cause with his students at school. Bieniek said "The opportunity to work with my students to make a positive impact on others in our community is so valuable. I love making music with them, but being able to have a positive impact on others is a much greater goal. It is my hope that going through this process with them will open our eyes to more opportunities to serve others in the future, using the talents and resources we have. That's what real teaching is!"
When asked what Mr. Bieniek's personal connection with breast cancer was, he stated "I have seen cancer impact family members, colleagues and friends. The effects of cancer not only impact the person with the disease, but all those who surround them. I lost my grandfather to prostate cancer and I have seen my grandmother beat breast cancer with the help of previous research and promotion of early detection. I have seen colleagues and friends devastated by the effects of cancer on their families, but in those cases I have seen amazing strength I can only hope to have if I am placed in the same situation. Breast cancer is a condition that is so difficult because it affects the ones who teach us how to love. Our grandmothers and mothers are the ones that love us and show our families how to unconditionally love each other; it is devastating when these strong and impactful women are hit with such a struggle or ripped from our families. I want to do whatever I can to help organizations that combat this disease."
Please donate to Mr. Bieniek and the band's efforts by clicking the picture links above. The band will be concluding their fall campaign with two performances. Be sure to join the American Cancer Society on October 15th at US Bank Stadium as Chad and his Lakeville South Band students join forces with Woodbury High School students (and fellow Real Man, Tark Katzenmeyer) to bring the power of music to the event! The band will also be performing their Indoor Marching Band Concert on Tuesday, October 18th at 7 PM in the LSHS Auditorium.
To increase the band's efforts, please share this page on your social media outlets. Let's join together and see the impact the community of Lakeville and it's kids can have!
Click here to see Lakeville South's show dedicated to the efforts of the American Cancer Society.