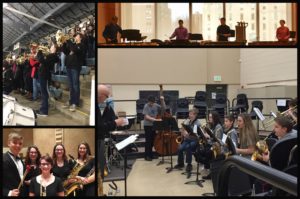 Our musicians have been extra busy these past few weeks. Jazz clinics, pep band at basketball and hockey games, percussion performances and honor bands at Luther College and here at South have kept everyone very busy.
The MN Band Directors Jazz Honor Band was recently hosted at South and five musicians had the opportunity to work with some jazz giants of our time to become better musicians. Want to hear a quick recording? Follow this link.
We were well represented at the recent Luther College Honors Concert with five of our students spending the day learning, sharing ideas and performing with a group of musicians from the five state region. Our musicians auditioned and were all placed in the top Symphonic Band which was made up of about 60 musicians.
The honors percussion quartet performed at the MacPhail Center for Music last week under the direction

Krissy Bergmark.
And finally, our students had the opportunity to experience electronic music from guest lecturer Matt Clark in late February.
Be sure to follow us on Twitter @lakevillesbands and like our Facebook page to stay connected with all the great things happening with this incredible group of students.
Mark your calendars – all our bands will be performing at the concert on 

Tuesday March 14

. Report time for Concert and Symphonic Bands is 6 PM and 6:45 for Wind Ensemble. Concert starts at 7 PM.