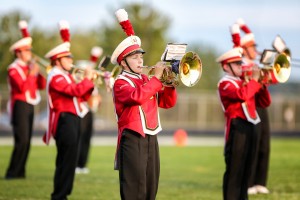 Two weeks are in the books at LSHS. Some of our brass performers entertained veterans and donors at the Tee it Up for the Troops event on Monday night at Bracketts Golf Club and the Pep Band had a great performance Tuesday night as our women's volleyball team defeated North. Our young performers are making great strides and are representing South well as compliments about this week's performance keep coming in from community members.
Next week is Homecoming Week which is a fun week for the kids. It is also a busy week for groups which represent our school, the band being a huge part of that. Below is a reminder of the band schedule for Homecoming Week.
Monday – Nothing outside of school day – whew!
Tuesday – Rehearsal for all bands 3-4:30pm
Wednesday – Powderpuff performance (Drumline and Wind Volunteers Only) 5-6pm – meet in band room
Thursday – Volleyball Pep Band – 6-9pm (part of the band will also leave the VB game to go play music to entertain the crowd during halftime of the home soccer game, for senior night and then return to volleyball)
Friday – Pep Fest performance during the day; All band rehearsal from 3-5, Dinner at 5 (for those who sign up by Thursday), then Homecoming Football Game Performance
Saturday – Students dance, Bieniek rests 😉
Band Booster Notes:
Thank you to those who attendended our first booster meeting of the year which followed this week's open house! The booster's next meeting is Tuesday, October 13 following conferences, so about 8 PM. Below are some booster notes:
1. Thank you to those that have helped with uniform fitting, dinner at football games, parade assistants, etc. You make these events great for our kids!
2. After football games, if you can help carry percussion stands back to the band room the band would appreciate it! Just walk over to our section as we are lining up to exit the stadium and grab a stand or two and return it to the band room, thanks!
3. There is a Sign-Up Genius for parent help at our 2 remaining football games to set up the drum major's ladder and bring mallet percussion back to the band room after the game. The links can be found on the booster volunteer page.
4. Come test drive a car for the band on September 24. Info below, this fundraising money helps the band greatly! MAKE SURE TO TELL THEM BAND!
Please participate in our Car Drive Fund Raiser Thursday September 24 from 3-7 PM in front of Cougar Stadium and the main entrance. We will have 8 new cars ready to be test driven.  $15 goes to the Activity of your choice, $5 to the All Sports Booster Club. This is an easy process and takes little time.  Volunteers will help you sign up as you arrive at the end of A wing outside entrance.   The test drive takes 5-10 minutes. Thank you for your participation in supporting our Activities.
5. SCRIP is a great and easy way to earn money for your child's band fundraising account which can help pay for band expenses and trips. Information on this program is available on the booster fundraising page.
Calendar: