Amazon Smile
Help out the bands while you shop!
Lakeville South Band Boosters is participating in the AmazonSmile program. AmazonSmile is a website that donates 0.5% of each purchase at Amazon to a charity of your choice. The only difference is that you must visit smile.amazon.com and select a charity. The rest of your shopping experience is the same as the main Amazon website.
This is a quick and easy way to help the bands by doing something you may already do. To help you remember to go to smile.amazon.com each time you shop at Amazon, set (or change) a bookmark in your favorite browser.
The following document provides instructions on how to get started or change your existing Amazon Smile organization to the Lakeville South Band are attached.
STUDENT FUNDRAISING
Students – you can raise money for your own personal band account to help pay your expenses associated with trips, activities and competitions. Below are the current programs available to you.
CAR WINDOW CLINGS, Magnets, Shoecharms and Bracelets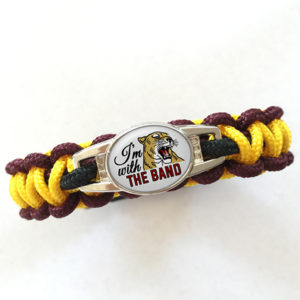 Buy a shoecharm or a paracord charm bracelet from Charmed Running and raise money for the Lakeville South Band! $1.50 from every shoe charm and $3.00 from every bracelet purchased will be donated to the LSHS Band Boosters to help with monies needed throughout the year.
SCRIP
Scrip is a gift card program where you can purchase gift cards and a portion of the proceeds are donated to a specific student. See the link below for details on using Scrip.

LSHS Band Booster Scrip Fundraiser
TUPPERWARE
A Tupperware catalog sale can be set up for an individual student and 40% of the proceeds are donated to that student. Contact lakevillesouthbandboosters@gmail.com for more information on how to get this arranged.