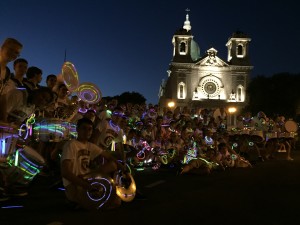 The 2015-2016 Lakeville South Bands will hold their first practice on Tuesday, August 18. This practice is for ALL 9-12 students registered for band this school year. Our practices start a little earlier this year due to an earlier start to the football season. The Lakeville South Band Program is concert band focused, but the first part of the school year is focused on introducing all of our musicians to marching band techniques and promoting school pride. Please make sure you are at all rehearsals and performances as our efforts only lead to success when the whole band performs together. When we create a form on the football field it is imperative everyone is there so the forms are understandable to the audience and the music we make together is always best with everyone contributing! I understand unavoidable conflicts and promote students being involved in multiple activities. I appreciate the proactive planning and communication of those which these affect! If you will miss a portion of a rehearsal please communicate this in advance via email and be prepared upon your return. Below are a few reminders for our fall camp:
Schedule: August 18 is our first group rehearsal. All rehearsals are posted in the calendar on the right hand side of the webpage. Notice August 20 was changed to 1-6 pm due to the freshman orientation in the morning. The year's calendar is also available in pdf form here:  LSHS Band Activity Calendar 2015-16.
Shoe order form: Many band members have been fitted and received their uniform. There are two scheduled evenings coming up (on the calendar) for the balance of the band to receive their uniforms. All band members must attend one of these nights as we will be in uniform for our first performance on August 28. If you can not make the night scheduled for your grade, please attend the other night. The school provides the uniform, but everyone must purchase a pair of shoes. We will all be wearing the same shoes this year and the shoes you purchase will be used throughout your music making at Lakeville South. Please fill out this shoe order form and return it at the first rehearsal on the 18 or via email. Shoe Order Form
What will I need for August rehearsals?
1. Tennis shoes (no sandals)
2. Sunscreen, we will be outside the majority of the day
3. Water bottle
4. Pack a lunch for our lunch breaks (12-12:30)
5. 3 ring binder for charts
6. Instrument and lyre (the thing that holds the music on your instrument, if you don't have one, visit your nearest/favorite music store and pick one up).
7. A great attitude and pride for what you will accomplish
Music: Many students picked up music at the activity night, if you would like your music to look at prior to the 18th, you can stop at school on Monday the 10th between 9 am and 6 pm and pick it up in the band room. This would be very helpful to you embouchure as I am sure it has weakened over the summer 🙂 It will also give you more time to memorize! If you can not make it on Monday, I will be at school most of the week so just shoot me an email to set up a time to pick it up.
I am really looking forward to seeing everyone on the 18th!