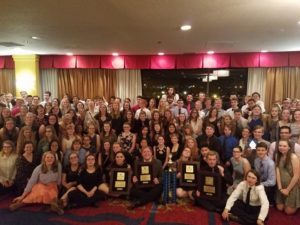 The Lakeville South Band program took 130 of its musicians on a Colorado tour from April 4-9. Four performing groups from LSHS (Wind Ensemble, Symphonic Band, Percussion Ensemble and Jazz Ensemble) performed in an exchange concert with Arvada West High School and in a World Strides Onstage music festival. Between performances, the students were able to take in the sights our Rocky Mountains of Colorado Springs offer; the great sandstone formations of Garden of the Gods, views from Pike's Peak, the Air Force Academy, Cave of the Winds, Royal Gorge Bridge and the Manitou Anasazi Cliff Dwellings.
Multiple honors were earned by the bands, but two of the most impressive were the LSHS Jazz Band earned a Gold ratong and "Most Outstanding Band Performance," which qualified them to perform at Carnegie Hall. In addition, Danny David was awarded the Maestro Award, which is earned by demonstratong extraordinary musical ability and sensitivity. The judges selected five musicians for this award out of all of the musicians that made up the performing choirs, orchestras and bands from around the country.
Mr. Bieniek loved this trip because he was able to share his love of music and the mountains with his students. The bands performed multiple pieces and were inspired and composed with the mountains of Colorado in mind. Aside from music and the planned sites, students were able to wake up early for a morning jog in the mountain air, hike up the Manitou Incline followed by a trail run down and just be a kid with a giant snowball fight in the pine and aspen woods at 10,000 feet!
The bands will hold their final concert on Tuesday, May 9th at 7 PM in the LSHS Auditorium. The music of the evening will be Music of the Movies, but the Wind Ensemble will also be performing the famous piece who's lyrics were inspired by the view from Pike's Peak, America the Beautiful. Pictures from the band's tour will be on display during the performance.